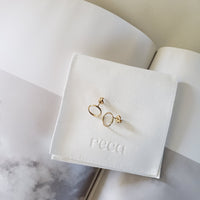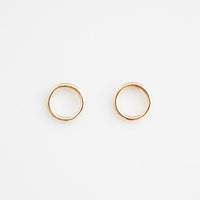 Infinity Circle Studs - Reca
These 14k Gold filled Infinity Circle studs represent the formlessness of the infinite. Simple shaped and minimal studs, perfect for everyday wear.
Jewellery that gives women better lives
Handcrafted by the amazing women artisans at Reca. Reca is a 100% New Zealand owned business, and their own range is designed and handcrafted in New Zealand. Reca trains and works with former refugees to make the pieces. So when you purchase a Reca piece, you know that you're helping women build a better future for themselves.
Both gold plated and gold filled jewellery are a base metal that's coated with gold. Gold filled jewellery often contains up to 100x more gold than gold plated jewellery, and has to meet a certain standard to be called gold filled. Because of this, gold filled jewellery lasts much longer than gold-plated, and doesn't tarnish or irritate the skin so easily.
14k Gold Filled Infinity Circle Stud 9.5 × 10 mm
We ship worldwide direct from our Auckland, New Zealand studio to your door using only home compostable or curbside recyclable packaging.


Find out our rates, policies and whether you qualify for free shipping by heading to our Shipping and Returns section
We are delighted to work with some of the world's most innovative leather alternatives so you might be wondering which is the best option for you?


Of course we wouldn't put any products in our shop we aren't proud to recommend but if you want to compare your options, head to our Fabrics page to learn more