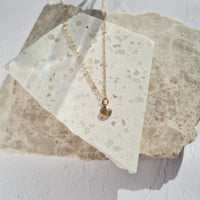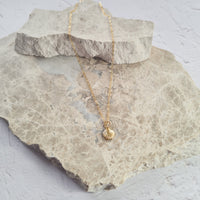 Gold Clam Necklace - Reca
The clam shell charm necklace is effortlessly chic and easy to wear. Perfect for taking outfits from day to night and layering with other necklaces.
A minimalist piece that also features a 14k gold adjustable chain that you can wear at three different lengths. Adaptable for your style and whatever your day holds.
Jewellery that gives women better lives
This necklace is handcrafted by former refugees in New Zealand, and each purchase supports a living wage for the artisans of Reca. 
Because each item is handcrafted, they are all truly unique and will have their own quirks and charms. These represent the strength and beauty of the woman who created the piece, and you, the woman wearing it.
What is "Gold Filled"?
Basically much higher quality and longer lasting than gold plated jewellery, but not solid gold.
Both gold plated and gold filled jewellery are a base metal that's coated with gold. Gold filled jewellery often contains up to 100x more gold than gold plated jewellery, and has to meet a certain standard to be called gold filled. Because of this, gold filled jewellery lasts much longer than gold-plated, and doesn't tarnish or irritate the skin so easily.
Length: 18", 19", 20" (45.72cm, 48.26cm, 50.8cm) - Adjustable with spring clasp
14k Gold filled 1.3mm chain
14k Gold filled clam charm: 6 × 8 mm
We ship worldwide direct from our Auckland, New Zealand studio to your door using only home compostable or curbside recyclable packaging.


Find out our rates, policies and whether you qualify for free shipping by heading to our Shipping and Returns section
We are delighted to work with some of the world's most innovative leather alternatives so you might be wondering which is the best option for you?


Of course we wouldn't put any products in our shop we aren't proud to recommend but if you want to compare your options, head to our Fabrics page to learn more