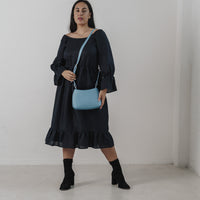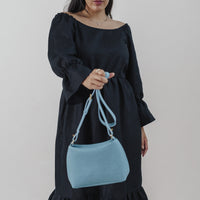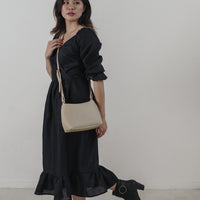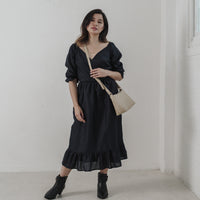 Introducing a new classic ethically made from 100% vegan high quality corn leather, Sofía is beautiful, curvy and sassy like her iconic namesake Sofía Vergara. Available in 12 gorgeous colours of our newest plant-based textile, this bag comes in two sizes, a classic run-around or Queen for someone who needs to carry a few extras!
Please note all colours except Obsidian (black) and Cotton (white) have pull-up effect which creates a two tone effect where the textile is stretched or folded. This gives a nice worn-in vintage effect on the colours where it appears lighter on seams and folds.
Product Details
Corn Leather Outer - The only PU made with renewable resources, Viridis® contains 43% of bio polyols coming from European non-food and GMO-free corn and wheat crops. Viridis® biobased content is equal to 69%, its bio polyols and FSC viscose content makes it the most green product among the synthetic fabrics:
43 % bio polyols
26 % FSC viscose
31% normal PU
Viridis® not only has a green origin due to its ingredients but it also shows to be sustainable throughout its entire life. The Life Cycle Assessment evaluated the environmental impacts associated to Viridis® by identifying and quantifying energy and materials used and the waste released into the environment. LCA is an objective and scientific picture that proves Viridis® to be much more sustainable than a traditional PU.
Deadstock 100% cotton lining
Zip Closure - gold coloured
Adjustable strap with stud detail - Select your strap length: Petite is 100cm/39" , Mid is 120cm/47" , Tall/Plus is 140/55" - Note that these straps are adjustable so these options are the length of the strap on the middle setting where the tail of the strap will hang as pictured (adjustable 9cm either side of that measurement)
Size
Classic - H: 15cm/5.9" x W: 20cm/7.9" x D: 9cm/3.5"
Queen - H: 20cm/7.9" x W: 26cm/?" x D: 12cm/4.7"
Care
Wipe clean with a damp cloth if required, air dry away from sunlight
Gorgeous!
My partner got me the Queen in Espresso, and it's absolutely gorgeous and goes well with every garment I own. Plus that it is very spacious and thus functional so I take it with me everywhere.
Beautiful bag!
I purchased this bag in the white shade in queen and it's gorgeous. Very well made and enough room for needs.
We ship worldwide direct from our Auckland, New Zealand studio to your door using only home compostable or curbside recyclable packaging.


Find out our rates, policies and whether you qualify for free shipping by heading to our Shipping and Returns section
We are delighted to work with some of the world's most innovative leather alternatives so you might be wondering which is the best option for you?


Of course we wouldn't put any products in our shop we aren't proud to recommend but if you want to compare your options, head to our Fabrics page to learn more