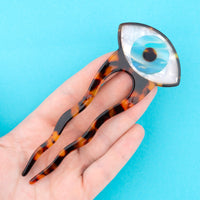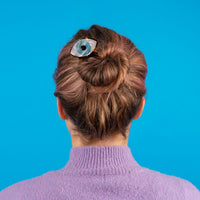 Hair Pin - Coucou Suzette
These irresistibly quirky pins are ethically made by our sweet French friends at Coucou Suzette. Very handy, takes no space in your purse, and perfect to do your hair in no time. It is ornamented with a beautiful turquoise eye, and its two tortoise-shell arms will make a perfect job holding your messy buns. A hair pin that will take care of you as a little lucky charm, chasing away all the negative thoughts with its magical eye. Made from cellulose acetate (a bio-plastic made from plants!) these lovely pieces are far more sustainable than your average plastic hair clip!
Each creation is unique, the color can slightly vary depending on the piece of acetate used
Recommendation : avoid contact with water
Size - 13.5cm x 5.5cm
Materials - Cellulose acetate is a material made of plants (wood and cotton pulp). It is FSC certified (Forest Stewardship Council), which means the wood cellulose we use comes from forests managed in a sustainable way. The wood comes from a legal logging and its extraction does not cause deforestation nor harm the biodiversity
Cellulose acetate is classified as "bioplastic" because it looks like plastic but it is not made of petroleum. Therefore, it is a sustainable material because it is biodegradable and can disappear in around ten years if put in a compost, unlike plastic or traditional acrylic (made from petroleum) which have a very long life time and pollute soils and oceans. Cellulose acetate can also be recycled, which means the scraps can be turned into reusable acetate and no material waste is made.
We ship worldwide direct from our Auckland, New Zealand studio to your door using only home compostable or curbside recyclable packaging.


Find out our rates, policies and whether you qualify for free shipping by heading to our Shipping and Returns section
We are delighted to work with some of the world's most innovative leather alternatives so you might be wondering which is the best option for you?


Of course we wouldn't put any products in our shop we aren't proud to recommend but if you want to compare your options, head to our Fabrics page to learn more