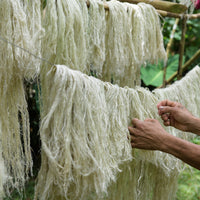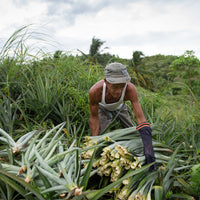 This perfect little pouch has been ethically made from 100% vegan high quality pineapple leaf textile (Piñatex®) and is ideal as a mini clutch or an every day wallet! Named after the fashion icon Kate Moss it is your perfect edgy and sustainable companion!
Product Details
Pineapple leather outer - Piñatex® is a sustainably-produced plant based textile, developed according to the principles of a circular economy. The pineapple leaves that form the basis of Piñatex® are the byproduct of existing agriculture, so no additional land, water, fertiliser or pesticides are required to produce the raw material, and by adding value to a waste product provide an additional income stream to pineapple farming communities. No animal products are used at any stage of production, and, in line with the Cradle-toCradle® philosophy, production involves no harmful chemicals and minimal water use.
Deadstock 100% cotton lining
Zip Closure
Internal zip pocket for your cards or cash
Deadstock ring to attach your keys
Size
H: 10cm/3.9" x W: 16cm/6.3" x D: 1cm/0.4"
Care
Like any product, a #MadeFromPiñatex product needs regular care. We recommend caring lovingly for your product. / 1 Clean your product thoroughly and effectively using a cloth soaked in warm soapy water. If your item is heavily soiled, you can rinse with lukewarm water but never fully submerge the product as this may cause irreversible damage. / 2 Let your item dry before any application is made and refrain from using a heat source to dry more quickly, as this could cause damage. / 3 We recommend using a natural colourless wax for your #MadeFromPiñatex products. Apply a small amount to a dry, soft cloth and rub sparingly over the textile in a circular motion until fully absorbed. Do not use too much wax as it may not fully absorb. / 4 Leave your item to dry naturally for 24 hours after application. / 5 You can also buff the wax off with a dry cloth or soft brush.
We ship worldwide direct from our Auckland, New Zealand studio to your door using only home compostable or curbside recyclable packaging.


Find out our rates, policies and whether you qualify for free shipping by heading to our Shipping and Returns section
We are delighted to work with some of the world's most innovative leather alternatives so you might be wondering which is the best option for you?


Of course we wouldn't put any products in our shop we aren't proud to recommend but if you want to compare your options, head to our Fabrics page to learn more